Laundry Businesses Have Specific Needs for Insurance
Make Sure You Are Covered.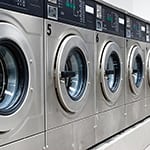 If you are a laundromat owner, you need the best property and liability coverage possible to protect your investment.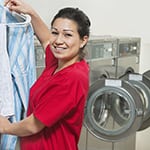 Be sure to have workers' compensation coverage for your attendants and other employees.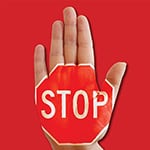 Before you decide, discover 7 important coverages you may be missing in other insurance policies with this report.
CLA Insurance – Laundry Business Coverage
You've made a big investment in your self-service laundry operation. That's why it's so important to be sure it's properly insured.
While many agents may be willing to insure your company, not all of them are knowledgeable enough about the laundry industry to provide the right kind of coverage for your business. Some may even charge more than you need to pay. CLA Insurance can provide a better solution for your business.
We Understand Both the Laundry and Insurance Industries.
CLA Insurance is the largest laundry insurance program in the country. We have been providing coverage to CLA members for 25 years. Our experience enables us to deliver the insurance package that gives you the coverage you need, at a competitive price.
We offer comprehensive property and liability insurance tailored to the specific needs of your facility. You'll have the reassurance that you're getting insurance from a national, A-rated carrier. And, because CLA Insurance is a member-owned laundromat insurance company, our main emphasis is on providing you with superior service.
You Can Count on CLA Insurance for Other types of Coverage as Well
Think of us as your one-stop-shop for any type of insurance, both personal and business. In addition to comprehensive coverage for your laundry operation, we also offer:
Home, Life and Auto for you and you family
Coverage on other businesses you may own, such as real estate or dry cleaners.
The Time to Evaluate Your Insurance Coverage Is Now!
Don't wait for an emergency to happen. If you're not adequately covered, it could turn out to be extremely costly for your business.
Call a CLA Insurance Advocate Today! (800) 346-8424
Phone: (800) 346-8424
Fax: 847-427-2633
CLA Insurance
1701 Golf Rd
Rolling Meadows, IL 60008
TESTIMONIALS
"I am very happy with CLA Insurance! It saved me about 70%! There weren't any local carriers that could come close to it. Thanks to CLA, I got to go on a winter vacation with my savings. So, submit an application and see what happens!"
– Myron Krupa of Willmar Coin Laundry , Wilmar, MN
"CLA Insurance contacted me before my underwriter did to let me know that the rates were increasing. CLA Insurance shopped my policy and saved me between $1,200 and $1,300."
– Chris Teal , Charlotte, North Carolina
"Excellent service and great rates – why shop around? CLA Insurance saved me more than 50% on my premium."
– Harvey Kantor of Market Square Laundry , Philadelphia, PA