Since 1988, CLA Insurance has been providing self-service laundry owners with quality property/liability and workers' compensation coverage.
In response to the special needs of members, CLA Insurance was created by the national Coin Laundry Association (CLA). CLA Insurance only insures self-service laundries. Over 25 years, laundry owners have chosen the laundry experts to insure their businesses.
CLA Insurance understands the industry and the insurance needs of their clients and have continued to provide a stable and educated business model, which clearly demonstrates longevity and loss control. Specific highlights of the CLA Insurance program include:
Expert insurance services to the self-service laundry industry, featuring a-rated insurance carriers for underwriting, loss control and claims handling
Partnership with the Coin Laundry Association
CLA Insurance staff, who bring a dual expertise to both the insurance and laundry arenas
Access to ALL levels of available insurance coverages to members of the Coin Laundry Association
Coin Laundry Association member benefits, including industry education, lobbying, discount programs, advertising support and others
In 2011 CLA Insurance introduced lines of insurance to cover all your insurance needs including business, employer and individual coverage. Call a CLA Insurance Advocate today to find out more or apply for laundry insurance online and request additional information.
Experts in Coin Laundry Insurance
CLA Insurance has a dedicated team of professionals waiting to serve you. They have more than 30 years of combined experience in the laundry insurance industry.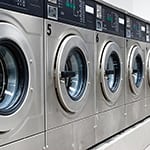 If you are a laundromat owner, you need the best property and liability coverage possible to protect your investment.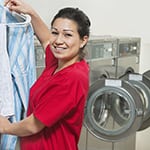 Be sure to have workers' compensation coverage for your attendants and other employees.